OUR SUCCESS STORY
Loved in Hong Kong & Japan
50 Megumi Anti-Hair Loss series is the leading Anti-Hair Loss product in Japan with over 10 Million products sold. It is also the No. 1 product in the hair treatment category in Hong Kong from 2015-2018.
98%
of users would recommend this product to others.
94%
of users were satisfied with 50 Megumi products in terms of reducing hair loss.
98%
would continue to use 50 Megumi Anti-Hair Loss series.
*Based on 40 Cosmopolitan Female readers, aged 25-40 years old, trial results after using 50 Megumi Anti-Hair Loss Treatment Essence for 8 weeks from 2015 March to April.
OUR Brand
Age Well. Live Well.
Wishing for long and luscious hair to take on life's most challenging obstacles? We at 50 Megumi believe strength and confidence grow through your hair. With 50 specially selected natural ingredients in every single drop, we've found the perfect remedy for women of all ages that effectively reduces hair fall and improves hair volume while strengthening your hair roots. Don't believe us? Try our Anti Hair-Loss Series and see visible results with continuous use for 4 months!
OUR PRODUCTS
50 Megumi Anti-Hair Loss Series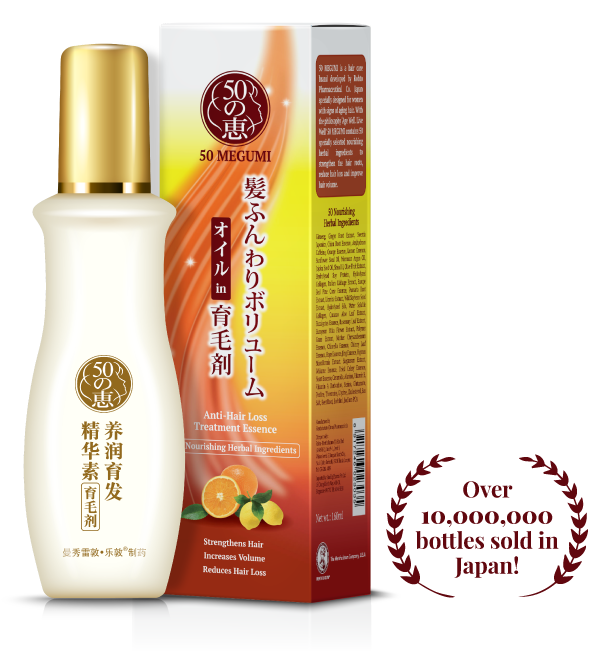 OUR SUCCESS STORY
The Leading Hair Loss Solution
in Hong Kong & Japan
With 50 natural ingredients, 50 Megumi is formulated to strengthen hair, reduce hair fall and increase hair volume within 4 months. We are widely acknowledged across Asia as the leading anti-hair fall product, with over 10 million products sold in Japan. Our Anti-Hair Loss series also holds the No. 1 spot in Hong Kong from 2015-2018 as the best hair treatment series in sales.
Learn more